The snow stops are fastened to the eaves of the roof approximately at a place where the loadbearing wall is. The snow stops are also installed at places of skylights and in case of very long gables, in several rows.
Maintenance. The defects caused by the installation of the snow stops should be immediately removed with the correction paint, which can be bought from sales offices of AS Toode. It is recommended that sweepings gathered in the snow stops (twigs, leaves, etc) be remove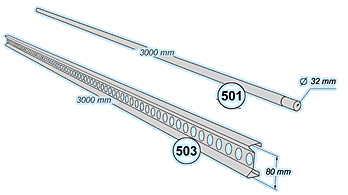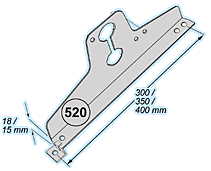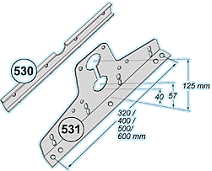 501 Snow stop pipe / 3000 mm
503 Sigma snow stop / 3000mm
520 Snow stop fastening for tiled profiles
531 Snow stop fastening for roofing sheets/ rolled steel roofs
530 Rolled steel roof bumper (only forrolled steel roof)
1. The place of snow stop fastening (520 or 531) is located approximately at a place where the loadbearing wall is (in case of tiled profile, the location of fastening is dictated by the pattern). The fastening spacing is 1500mm. The pipe snow stop is a two-pipe system, i.e. 2 snow stops (501) are installed one above the other. The first set of snow stop pipes should have three fastenings, each successively jointed snow stop pipe set should have two. The ends of pipes are conic, the successive pipe is inserted in the preceding one.
2. For rolled steel roof, the set includes the rolled steel roof bumper (530). In case of the rolled steel roof the corbel should not be fastened to the purlin through the roofing cover, but through the seam roll with four bolt-washer joints. The bumper fulfills the function of a washer.
3. The snow stop supports are fastened to the underlathing through the roofing cover (except rolled steel roof) with gasket screws. If needed (possible), install additional lathing.
4. In case of Sigma snow stops, instead of snow pipes, sigma profiles (503) are used. The snow stop fastenings and instructions are the same as for pipe snow stops.